As the LCS Spring 2023 regular season comes to a close, two teams stand out as strong contenders for the championship trophy: Cloud9 and FlyQuest. With impressive 14 — 4 match scores, both teams have demonstrated their skill on the rift, with players like Ibrahim "Fudge" Allami, Lee "Prince" Chae-hwan, and Lee "VicLa" Dae-kwang earning multiple player of the game awards throughout the split.
100 Thieves also pose a formidable threat, claiming the third spot in the standings with a 10 — 8 match score. The team includes two of the most decorated players in the North America League of Legends Championship Series (NA LCS) — mid laner Søren "Bjergsen" Bjerg and bot laner Yiliang "Peter" "Doublelift" Peng.
Here's everything you need to know about the LCS Spring 2023 playoffs, including its schedule, format, teams, and where you can watch the matches live.
What is the LCS Spring 2023 playoffs?
The LCS Spring 2023 playoffs is the crowning event of the LCS Spring split, where teams will fight for the first LCS title of the year and MSI 2023 qualification.
---
---
Format of the LCS Spring 2023 playoffs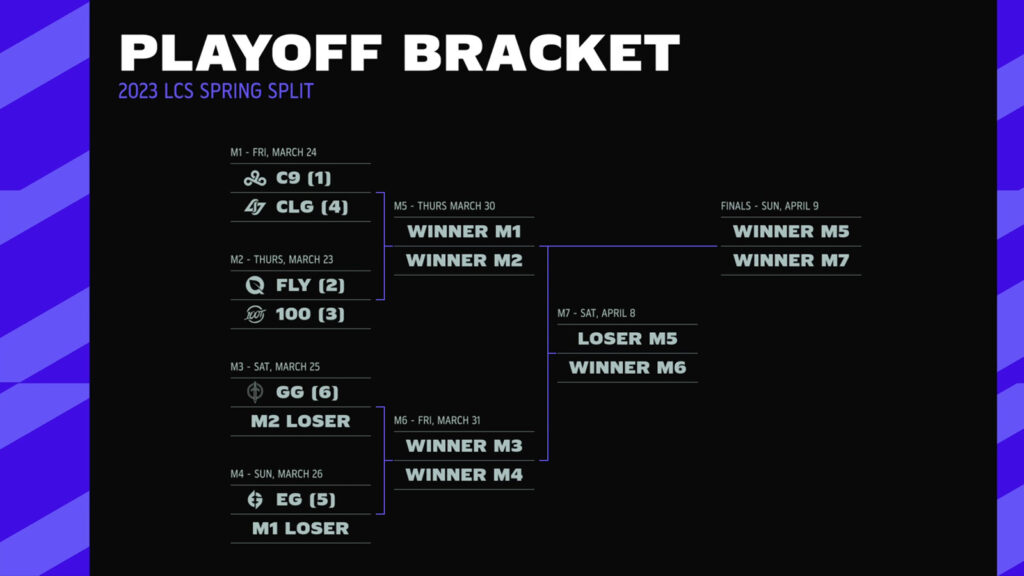 Out of 10 franchised esports organizations competing in the LCS Spring 2023, only six teams qualify for the playoffs. Their placement determines which round they are seeded into, where the top four teams will start in the winners bracket while the fifth and sixth teams will start in the losers bracket.
The LCS playoffs will follow a double-elimination bracket with best-of-five matches.
In round 1 of the winners bracket, the first seed plays the fourth seed, while the second seed plays the third seed. The losing teams of both matches drop to the losers bracket.
The champion and runner-up qualify for the Mid-Season Invitational (MSI 2023), which kicks off on May
…
Read More