US Open champion Emma Raducanu is finally on the board on the WTA Tour after three previous first-round defeats; the teenager from Bromley in Kent will next take on home favourite Ana Bogdan in the last 16 of the Transylvania Open on Thursday
Last Updated: 27/10/21 1:35pm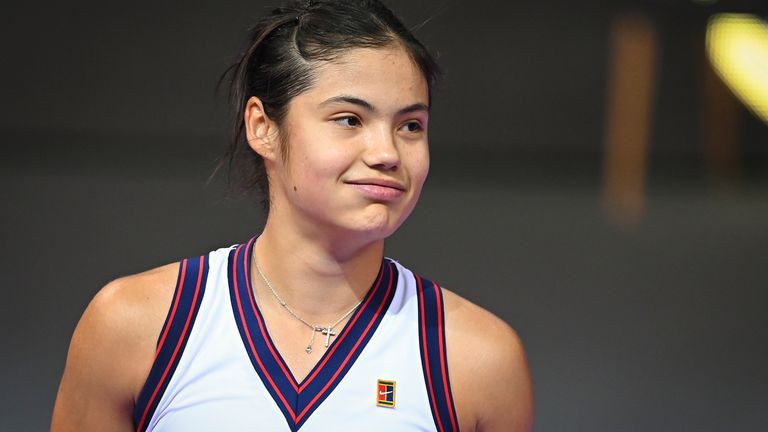 Emma Raducanu said tasting victory on the WTA Tour for the first time since her stunning US Open success "means a lot" to her.
Playing in just her second match since her fairy-tale victory as a qualifier at the US Open, the 18-year-old has finally been able to end the anomaly of being a Grand Slam champion without a win on the WTA Tour.
In just Raducanu's fourth tournament at this level and after three previous first-round defeats she finally got on the board, beating Polona Hercog behind closed doors at the Transylvanian Open in Cluj.
She said: "It feels like a huge win, it is my first WTA Tour win which makes me very happy.
"It was difficult for me but I feel to win my first WTA match does mean a lot because I was on a losing streak, so I got my first one. I am really pleased to have come through that today.
"It definitely means a lot, it's my first win, I knew that in my head so I was battling really hard to get on the board. To play in Romania, I had amazing support so they definitely helped me.
"It is a shame there aren't fans here but I hope they were watching and I just wanted to do them proud."
Raducanu, who had previously struggled to find anywhere near the level she showed in New York, allowed her talent to shine through in the deciding
…
Read More