Concept2 SkiErg review TL; DR: a quality piece of space-saving kit that provides a low-impact, full-body workout at a reasonable price.
If you're thinking about investing in an exercise machine to help you burn fat and shape up for good, you would do very well to consider the Concept2 SkiErg. It might not be a bike, or a treadmill, or a rower – and you might think it looks unlike any other kind of cardio machine you've ever seen before – but this training tool appears in our round-up of the best exercise machines to lose weight for a number of extremely good reasons.
Launched in 2009 by Concept2 – world-renowned makers of the RowErg machine – the SkiErg was originally designed for cross country skiers to help them replicate the action of ploughing through snow without having to set foot outside. However, given the SkiErg's supreme ease of use and huge accessibility, alongside its capacity to offer a full-body workout with barely any impact, the machine quickly became popular with exercisers outside of the winter sports community. 
Indeed, the SkiErg has been a prominent feature on the CrossFit scene for years and regularly makes appearances in WODs and in competitions, no doubt thanks to its reputation for being so damn tough (there's a reason why Nordic Skiing became an Olympic event in 1924).
Aside from an update in 2014 to improve the monitor and cord wear – and allow for both 'double-pole' and 'single-stick' techniques – the SkiErg has remained largely unchanged since its creation. This, in my opinion, is because the SkiErg has never been broke, so it's never needed fixing.
Of course, some critics say the SkiErg is boring and unengaging. Personally, I couldn't disagree more. With a tiny bit of imagination, the SkiErg turns into a powerhouse of an exercise machine that opens up a world of training possibilities for all kinds of people (including wheelchair users and anyone suffering from lower-body injuries) so they can take their fitness to new heights – for a very reasonable price to boot! Want to know more? Read on.
Concept2 SkiErg review: Price and availability
The recommended retail price of the wall-mounted Concept2 SkiErg with PM5 monitor is £700 / $770 /US$1,540. The SkiErg Floor Stand is sold separately for £180 / $180 / AS$330. Both can be purchased directly from Concept2 UK / Concept2 US / Concept2 Australia and selected third party retailers worldwide.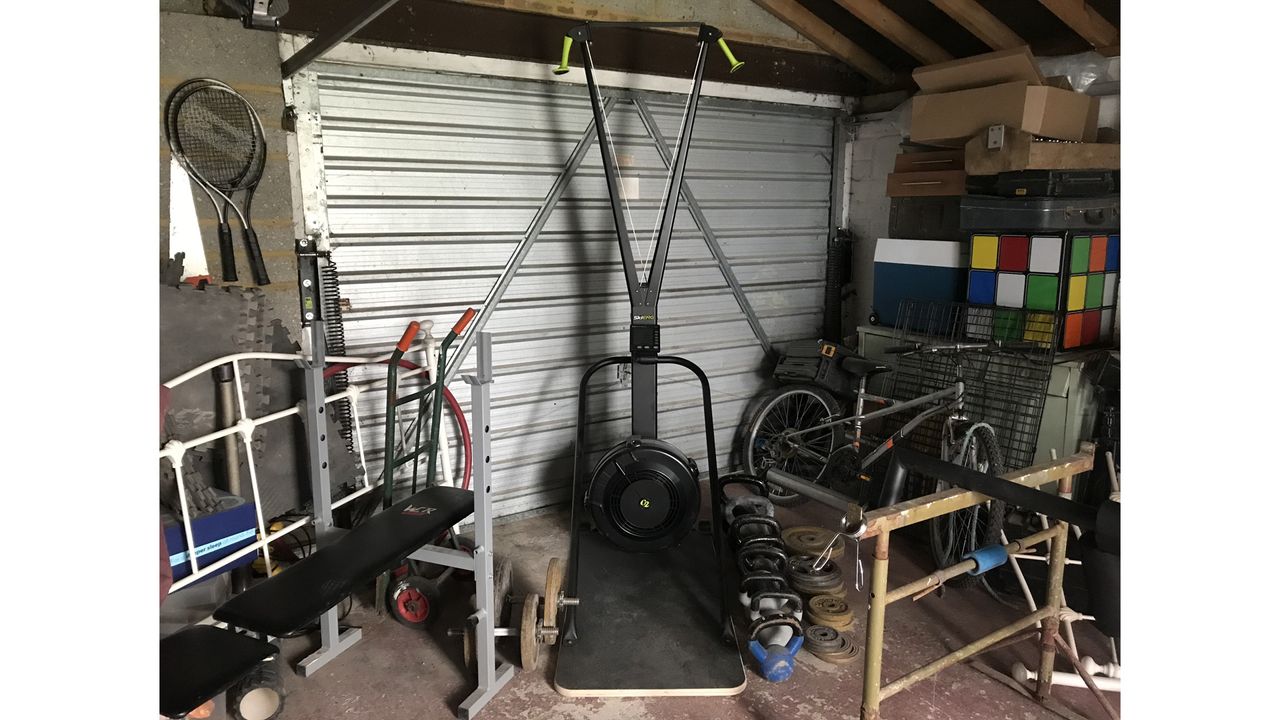 Concept2 SkiErg review: Set up
The first thing you need to know about the Concept2 SkiErg is that it is tall, standing at 85 inches / 216cm, but not so tall that it doesn't easily fit into a regular-height room. The SkiErg can be bought on its own and mounted to a wall so it takes up hardly any floor space, or used with the separate floor stand. Either way, it's probably one of the most compact exercise machines around. 
If it wasn't for the dado rails fixed to every wall in my house, I would have happily housed the SkiErg in my bedroom. Not willing to engage in a spot of DIY, I chose to put the SkiErg in my garage-turned-gym instead and plumped for the free-standing option for ease.
The SkiErg and floor stand arrived extremely well-packed in two separate boxes, and the build was quick and simple (around 20 minutes with another pair of hands). The illustrated instructions and product manual were easy to follow, you get all the tools you need to build it, and the 12 screws are even colour-coded so you literally can't go wrong (if you do, there's an assembly video linked below you can watch).
In fact, I'd say this was the least stressful machine I've ever put together and the user experience was first class from the kick-off. 
Concept2 SkiErg review: Features
The base of the floor stand measures 24 x 52 inches (61cm x 132cm) and it comes with an anti-slip deck and caster wheels at the rear so you can easily roll it out and wheel it back into place when you're done with it. My concrete garage floor isn't particularly even, but the stand manages to provide a rock-solid surface that never bounces or jostles around, and that impressed me a lot.  
Another thing I love about this machine is that you don't need to plug it in, so there are no annoying leads lying around, and you never have to place the machine near a power point or get an extension lead out. Moreover, it's a great buy if you're concerned about the additional energy costs of running an exercise machine – the excellent PM5 performance monitor (more on that later) is powered by two D cell batteries and even draws power from the spinning flywheel during your workout to extend battery life – so I guess you could say the SkiErg has a low Carbon footprint. 
The flywheel is the heart of the machine, responding to your pulling action on the high-strength cords for a smooth and continuous motion that can be adjusted and intensified via the spiral damper. The damper quickly adjusts the airflow across 10 resistance levels so you can change the feel of the pull, depending on whether you want to feel like you're on flat terrain or going on an uphill climb. 
It's also worth noting that wheelchair users can buy various accessories to make reaching the handles easier, including Handle Hooks which attach near the monitor to hold the handles in a lower position, and Handle Cord Extensions (watch PT and ex-professional swimmer Ben Clark from Adapt to Perform go through a variety of movements on the SkiErg here).
The handles themselves (which greatly resemble Shrek ears) are ergonomic, strapless, suitable for all hand sizes and provide a really secure grip that doesn't absorb sweat when you're going hell for leather. The shape of the handle also has a 'shelf' at the bottom to rest the heel of your hand against and is surprisingly comfortable even over long periods of use.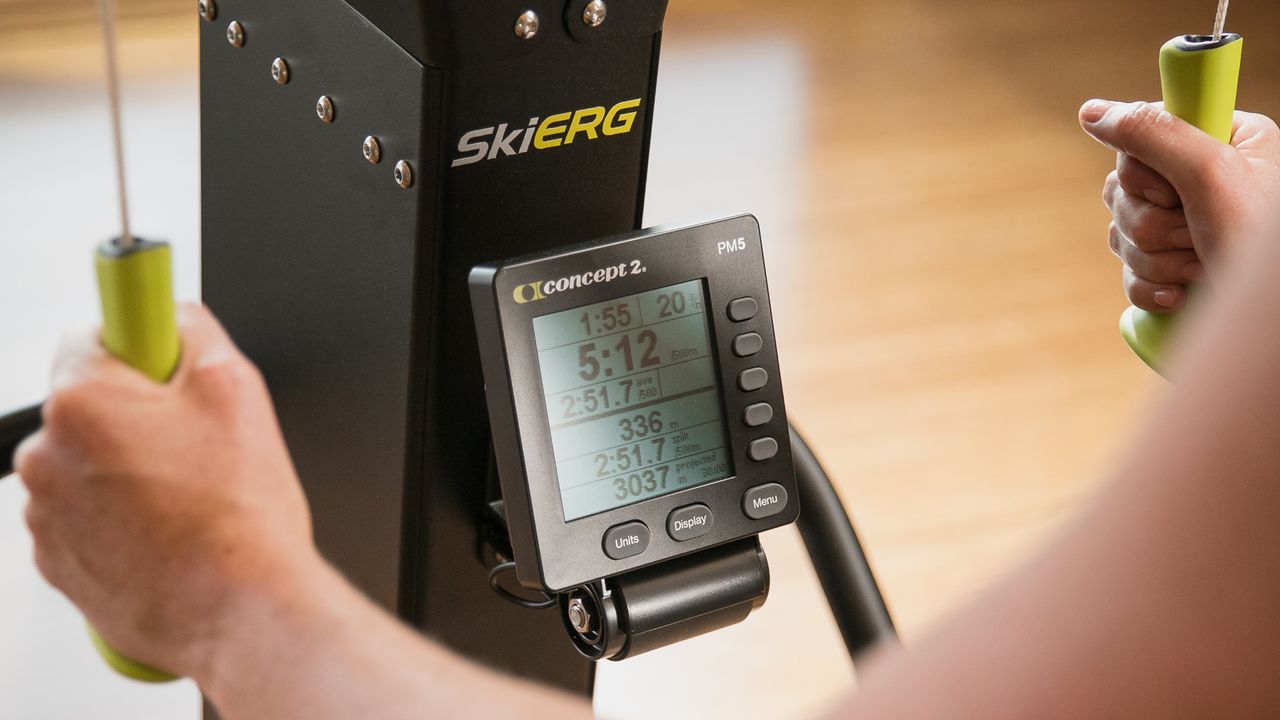 Concept2 SkiErg review: How to use it
Nordic or cross-country skiing is a high calorie-burning strength and endurance sport that's low on impact, easy on the knees and ankles, and suitable for all ages and abilities. The SkiErg replicates the sport indoors by allowing for two methods of movement: the 'double-pole' technique requires a two-armed pull that involves more of the larger muscles groups to increase the aerobic demand on your body for a greater calorie burn, while the alternating arm motion used in Classic Nordic skiing uses a slightly different and smaller set of muscles because it generally involves less leg movement – a nice option to have if you want to switch things up, or you're training specifically for Nordic skiing.
The double-pole movement engages your triceps, lats, core, glutes and hamstrings as you pull the handles in a downwards 'crunch' movement (you'll get the idea watching this technique video). The harder you pull, the faster the flywheel spins to create more resistance for a harder workout and, obviously, the better your technique, the more you'll get out of the workout. 
But one of the things I love most about the SkiErg is that you really can't f**k it up or injure yourself, even if you're a complete novice to exercise and never skied in your life. This means you still get a great calorie burn from the beginning, unlike some other sports like running or rowing which really require good form to maximise calorie burn and avoid injury.
Another thing I love is the fact that it's a standing form of exercise. If you're anything like me, the last thing you want to do is sit down on an exercise bike or rower after a long day sitting at a desk. But the SkiErg really opens up your body from top to toe, including the hips and shoulders (which is why a lot of weightlifters like to use it as a warm-up before squatting or lifting overhead) and effectively works your posterior chain – an area of the body that can really weaken over time from always sitting down. 
However, if your lower body is limited and you do need to sit down, you can easily slide onto a chair or stool to work your upper body and core from a seated position (I tried it, and it's tough!)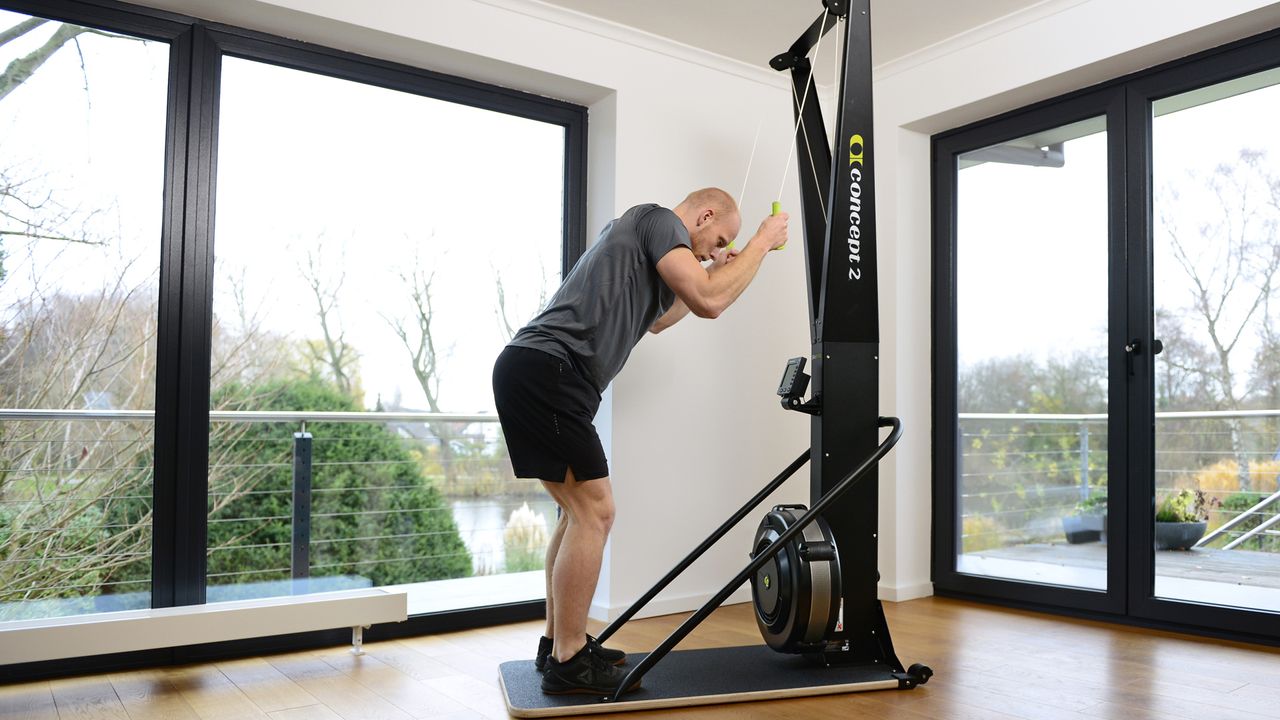 Concept2 SkiErg review: Workout performance
The Concept2 SkiErg really stands head and shoulders above cheaper copycat machines, thanks to the PM5 Performance Monitor. The backlit screen is super clear and easy to read in all light levels, springing into action when the flywheel starts spinning (there's no start/stop button). Additionally, the navigation of the menu-driven system is so simple and functional, you could probably forgo reading the instruction manual completely, but I suggest you do to avoid missing out on the many workout options. 
The PM5 provides reliable, comparable data across a range of metrics including distance, speed, pace, calories and watts for every workout you do, and you can choose between five display options depending on what metrics you're interested in seeing. From the menu, you can access preset workouts, save favourite workouts and review past workouts which are stored in the internal memory, but you can also use a USB flash drive so your data is portable, allowing you to upload it to the Concept2 Online Logbook and Rankings so you can compare your performance against others.
Additionally, the PM5 supports both ANT+ and Bluetooth so you can connect to a wide range of wireless devices including heart rate belts, fitness trackers and your smart phone – there's a phone holder above the monitor – allowing you to access apps such as ErgData, ErgRace Online (where you can take part in online races for free anywhere in the world), and other third-party apps like Zwift, Asensei and Regatta for live and on-demand classes.
On top of this, there are pre-installed games with different objectives, such as Fish Game, which teaches you how to modulate your intensity by eating electronic fish to score points, or the Darts game, which rewards consistency in tempo.
With all this in mind, I honestly don't know why some people say the SkiErg is boring, especially once you add a bit of imagination into the mix. Because while you can just grab the handles and aimlessly pull along for 20-30 minutes or 5,000m, in my opinion it's much more fun, stimulating and less painful to use the SkiErg as an interval training or circuit training tool, i.e., several rounds of 400m on the SkiErg, 20 kettlebell swings, 20 squats and 20 ab crunches. Trust me, your lungs will be burning, and you'll be gasping for air in no time! 
Best of all, you don't need to clip in and out of a SkiErg, unlike a rower or bike, or wait for a treadmill to slow down, meaning your transitions are seamless – just let go or grab onto the handles and go.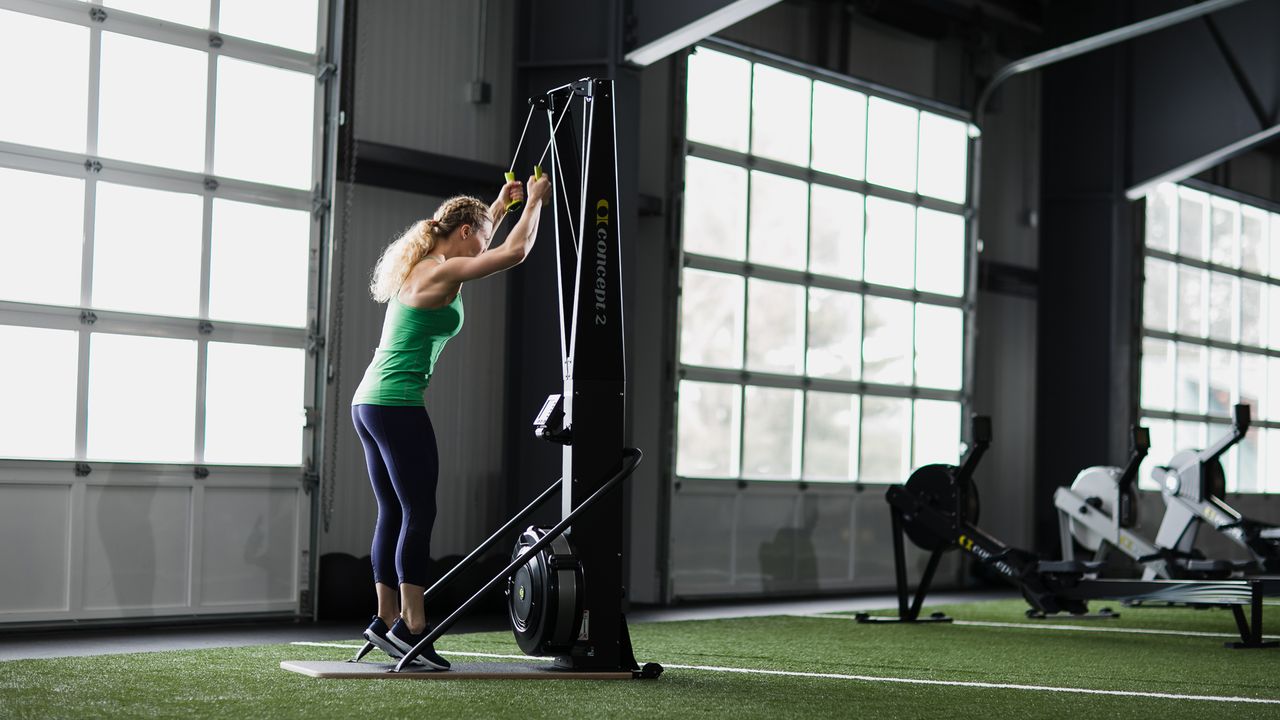 Concept2 SkiErg review: Verdict
The Concept2 SkiErg might not work as many muscles as a rowing machine, but it comes very close to providing a full-body workout with hardly any impact. Safe, simple to use and accessible to all, you can push yourself really hard in a short space of time using this machine with little risk of injury, so it's brilliant for upping fitness levels and burning calories.
Used in the context of circuit training or HIIT workouts, it provides fun, quick, get-in-and-get-out workouts that get results, but you can also engage in long distances to really build your cardiovascular endurance, or add a competitive element to your workouts by taking part in virtual races online.
A solid, quality piece of kit at a very reasonable price, the SkiErg is ideal if you're short on floor space, and it's also great for people who are worried about potential injury or already have an existing lower-limb injury. Moreover, you won't need a PhD in Sports Science to put it together or put it into action because it's so easy and fool-proof to use.
Concept2 SkiErg review: Also consider
If the Concept2 SkiErg is a bit out of your budget, you might want to check out the Braingain CrossFit SkiErg. However, it only comes with a six-month warranty (think of that what you will).
Alternatively, the Xebex SkiErg offers 16 resistance levels and more display options on the LED screen but for a much heftier price tag. It's slightly smaller in terms of height and depth, but the width of the floor stand is wider and bulkier.