As spring cleaning gets under way, you may acquire new cleaning products or tools to help tackle deep cleaning jobs. Over time, all those products and tools turn into clutter, and instead of helping you clean, become a hindrance.
Nonnahs Driskill, founding organizer at Get Organized Already!, offers some general advice on organizing cleaning supplies, "No matter where you store your cleaning products, make sure you get rid of the superfluous items to make it easy to find the products you actually use."
If cleaning products and tools have taken over all your under-sink spaces, making it impossible to get to the things you need, it might be time to add decluttering supplies to your spring cleaning checklist.
For example, Driskill says, "Some common clutter culprits I find under kitchen sinks are bathroom cleaners (store them in the bathroom where you use them); multiple products for the same kitchen job (pick one multi-purpose cleaner and embrace it); gloves with holes (just why?); bulk items or extra containers of the same products."
Ahead, with the help of Driskill and other organizing experts, we've rounded up 20 of the best products for organizing your cleaning supplies, all priced at under $35.
There's no need to limit yourself to a product's stated use when it comes to organizing solutions. For example, this no-damage wall-mounted Command caddy is marketed as being for the shower, but its size works just as well for cleaning supplies as for shampoo. Try it out in the laundry room to keep boxes of dryer sheets, small bottles of specialty detergent, clothespins, dryer balls and other small laundry notions organized — all while utilizing vertical space.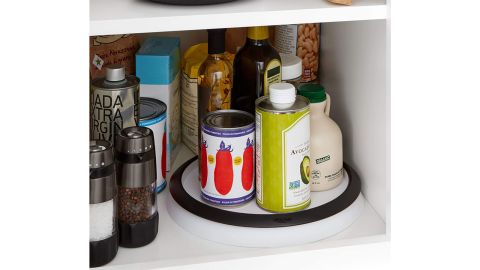 Ann Lightfoot, a founder of Done and Done Home, loves Oxo's Good Grips lazy susan, which she says, "Easily organizes anything from spices to oils in the kitchen to bath and cleaning products under the sink."
Using vertical space for storage is a universal tip professional organizers will offer, and cleaning supply organization is no exception. A wall-mounted mop and broom caddy keeps those important tools tidy and easy to get to right when you need them.
Driskill calls this wall-mounted hanging organizer "a must have for storing anything with a handle — brooms, mops, rakes and shovels."
3M's Command product line is beloved by many organizing experts, and Lisa Kron, a stay-at-home mom and organizational enthusiast who documents her organizing projects and tips at Smallish Home, is no exception. Kron uses these hangers designed to hold spray bottles to organize cleaning supplies under a sink.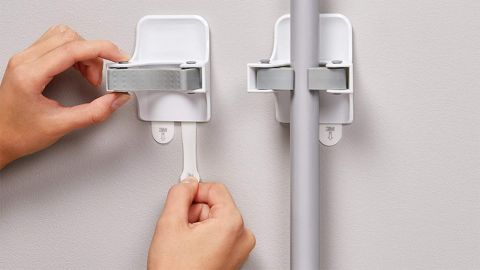 In addition to using the Command broom and mop holders for their stated purpose, Kron came up with a genius idea for these gripper hooks: She uses them to hold dish wands and scrub brushes under the sink, so they're out of sight but still close by when they're needed.
For those who prefer an in-sink sponge caddy, this one from Casabella is designed to hang from the sink faucet by an adjustable strap that fits around most standard-sized faucets. The caddy has two compartments for holding sponges, dish wands, scrub brushes and more, and is fitted with drainage holes to prevent water from accumulating, allowing wet items to dry faster.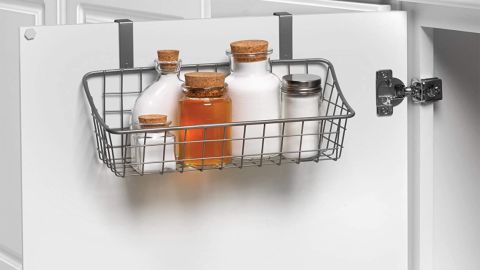 For the little things like dish gloves, sponges or Brillo pads, Driskill says "try a mesh container that hooks over the top of your cabinet door."
Attachments are crucial to getting the most cleaning power out of your vacuum, but they are difficult to store, making them hard to find when you need them. This hanging storage bag solves that problem by providing multiple pockets in which to stash all kinds of vacuum attachments.
For a more DIY turn on vacuum accessory storage, try this clever solution: Place vacuum attachments in a mesh sports equipment bag that can be hung on a hook or stashed in a storage crate, on a shelf or on the floor. As a bonus, when you need multiple attachments for a job, you can just pick up the bag and carry it to the room you'll be cleaning.
Speaking of DIY solutions, almost no DIY idea is more beloved by professional organizers than using a tension rod to store bottles of cleaning solution. "When it comes to organizing products," Driskill says, "the lowly tension rod steals my heart in many situations; under the kitchen sink is one of them." Simply pop the tension rod in an under-sink area and hang bottles from their trigger for tidy and easy-to-access storage.
The tension rod trick inspired this expandable storage shelf and rack. The tension spring design makes this a great choice for renters or dorm dwellers who want some extra storage space but who don't want to put holes in a wall or cabinet and risk fines.
Wire shelves also offer a natural place to hang trigger spray bottles, making hanging baskets like this a great way to stash a full suite of supplies for cleaning right in the room where you'll need them. Use the basket to store cleaning cloths, brushes, sponges, etc. and the wire lip of the shelf to hang bottles.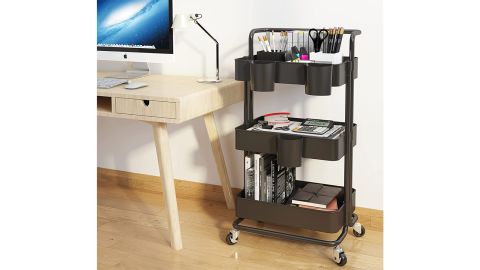 Another staple of the professional organizer's arsenal is the rolling utility cart. Look for models like this one that have locking wheels, so that you can roll it from room to room as you clean or leave it fixed in place while you grab the products you need for whatever chore is on your to-do list.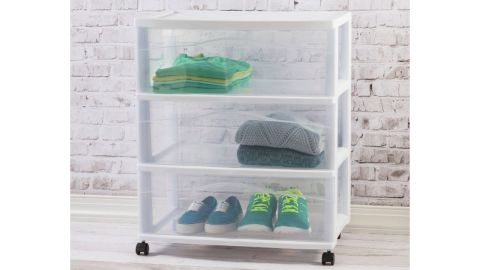 This wide plastic storage cart can be used to set up a cleaning "closet" of sorts in homes or rooms where traditional storage is limited. It comes with wheels that can be affixed for a portable storage solution, and it has pull-out handles with drawer stops to prevent drawers from being removed accidentally.
Closet organizers aren't just for accessories — they can be a great way to organize lightweight cleaning supplies like rolls of paper towels, stacks of cleaning rags or duster wands and refills.
Because every sink cabinet is so different, Driskill says she skips caddies and stackable shelves. "We use a good old-fashioned plastic dish tub to store cleaning supplies under the sink, if anything at all," she says, adding, "most people have way too many cleaning products. No caddy will solve that problem!"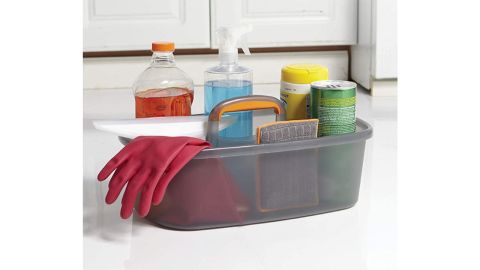 For those who like a caddy-style organizer, the Casabella storage caddy is a great choice. It's designed to hold and store a variety of cleaning supplies such as bottles, sprays, sanitizers, brushes, sponges, scrubbers and rubber gloves, and it's also sturdy enough to pull double duty to store gardening tools in the garage or shed.
Classroom caddies designed for school supplies can also be pressed into service for cleaning supplies. This model comes with six cup inserts, offering a lot of flexibility when it comes to configuring the caddy to fit your supplies.
This wearable cleaning caddy is designed with multiple sections for holding bottles with elastic loops to keep them in place while you work. The bag also has three D-rings and steel clips for holding cloths and other items close at hand. It has padded adjustable shoulder and waist straps, to help keep the weight of cleaning supplies balanced and the bag in place while you work.