As spring cleaning gets under way, you may acquire new cleaning products or tools to help tackle deep cleaning jobs. Over time, all those products and tools turn into clutter, and instead of helping you clean, become a hindrance.
Nonnahs Driskill, founding organizer at Get Organized Already!, offers some general advice on organizing cleaning supplies, "No matter where you store your cleaning products, make sure you get rid of the superfluous items to make it easy to find the products you actually use."
If cleaning products and tools have taken over all your under-sink spaces, making it impossible to get to the things you need, it might be time to add decluttering supplies to your spring cleaning checklist.
For example, Driskill says, "Some common clutter culprits I find under kitchen sinks are bathroom cleaners (store them in the bathroom where you use them); multiple products for the same kitchen job (pick one multi-purpose cleaner and embrace it); gloves with holes (just why?); bulk items or extra containers of the same products."
Ahead, with the help of Driskill and other organizing experts, we've rounded up 20 of the best products for organizing your cleaning supplies, all priced at under $35.
There's no need to limit yourself to a product's stated use when it comes to organizing solutions. For example, this no-damage wall-mounted Command caddy is marketed as being for the shower, but its size works just as well for cleaning supplies as for shampoo. Try it out in the laundry room to keep boxes of dryer sheets, small bottles of specialty detergent, clothespins, dryer balls and other small laundry notions organized — all while utilizing vertical space.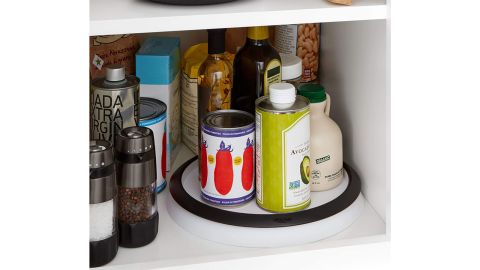 Ann Lightfoot, a founder of Done and Done Home, loves Oxo's Good Grips lazy susan, which she says, "Easily organizes anything from
…
Read More