Let's face it: Home workouts are hella convenient. I do them all the time, as for me, it's so much easier to get through a workout vid than sweating it out in front of a load of strangers. That being said, it can be real difficult to find ways to organize all of that equipment.
I currently have all my weights, resistance bands, and mats crammed into my spare room, which is a bit of a mare TBH. They're taking up way too much floor space, which is very precious in my tiny rental. There must be a storage solution for this, right?
Turns out, there are lots of great ideas out there! These pics and vids are all totally genius ways to keep your gym equipment in one place. By copying these, you'll be able to make all your pieces easily accessible for when you want to have a workout sesh.
Keep on scrolling for some seriously clever ideas…
Gym storage ideas that are perf for small workout spaces
Whether you have a home gym or are repurposing another room (like me!), storing gym equipment in a stylish way is a fab idea. As well as picking out inspo, I've also rounded up some buys, so you can start getting organized ASAP.
The prices below were correct at the time of publishing this article.
1. Soften it up with baskets and boxes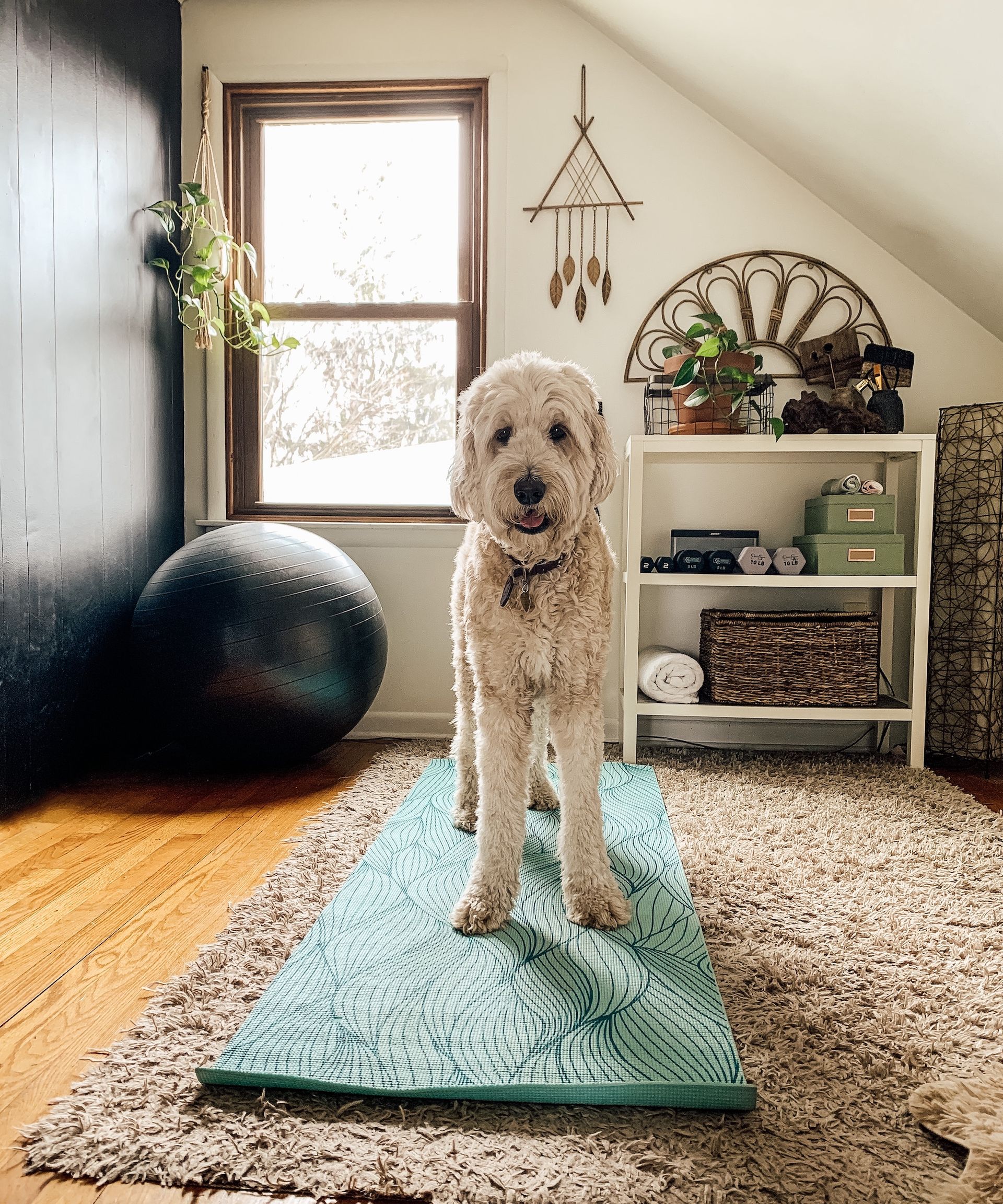 Soften up your space by using baskets and boxes to store your home gym equipment. By using a cute storage solution like this, your equipment can be stored anywhere in your apartment without ruining the aesthetic. If your home gym area is a beautiful, cozy space, it will makes you happy to be there and more likely to work out — win, win, right? I absolutely love the home gym pictured by @updatemycape, with its minimalist shelving and woven storage baskets.
2. Peg it on the wall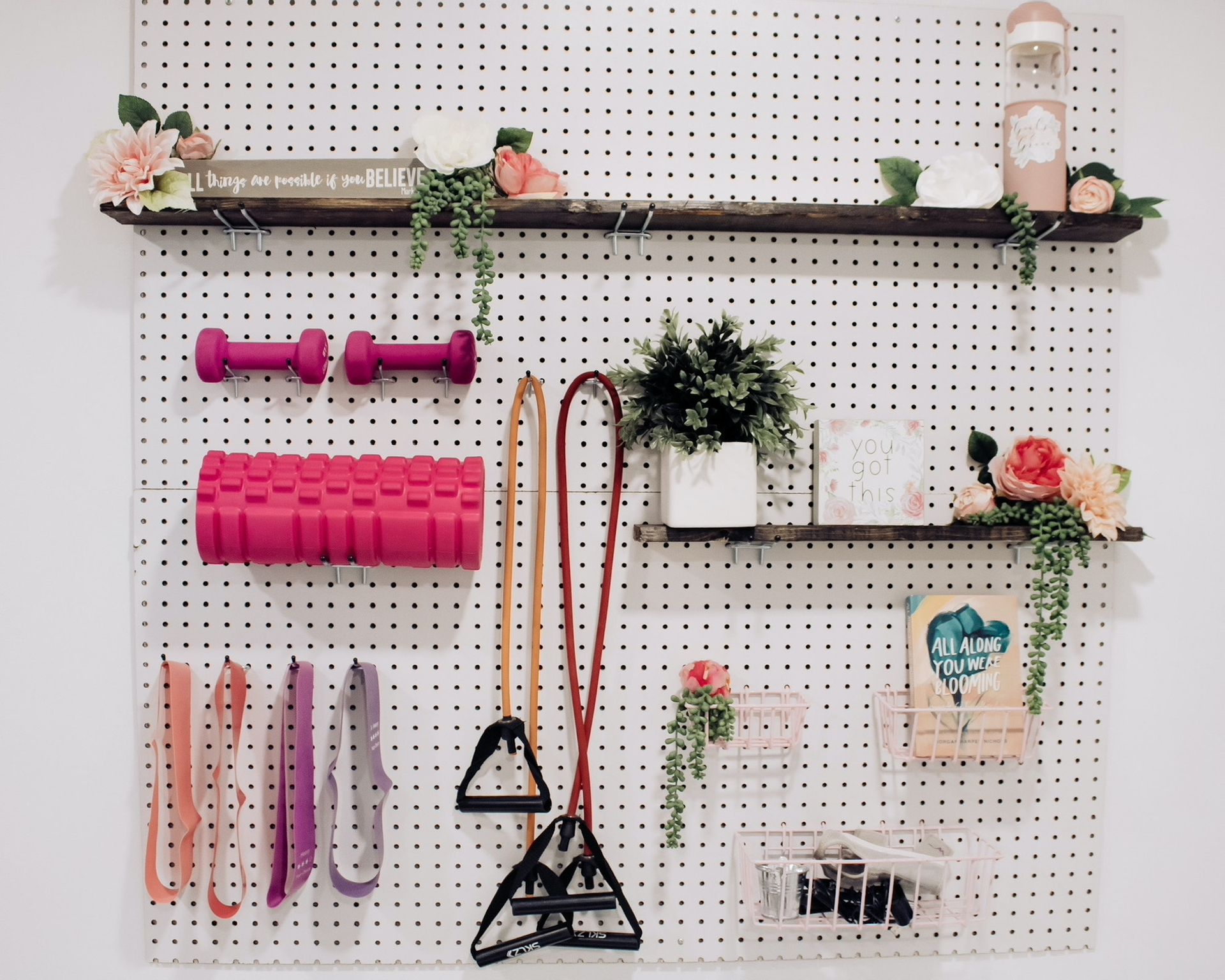 Peg boards are honestly a total dream for renters who can't hang things up on their wall. They provide vertical storage, and can be styled so they look part of the decor. You can easily create hooks for resistance bands, foam rollers, yoga mats or dumbbells, and add shelves for cozy plants and motivational signage to get you in the groove. I'm totally into the pink gear that @_megortiz has used in her gym, which looks majorly Barbiecore. Try to pick a color scheme and stick to it to recreate this look. 
3. Hang up a yoga mat rack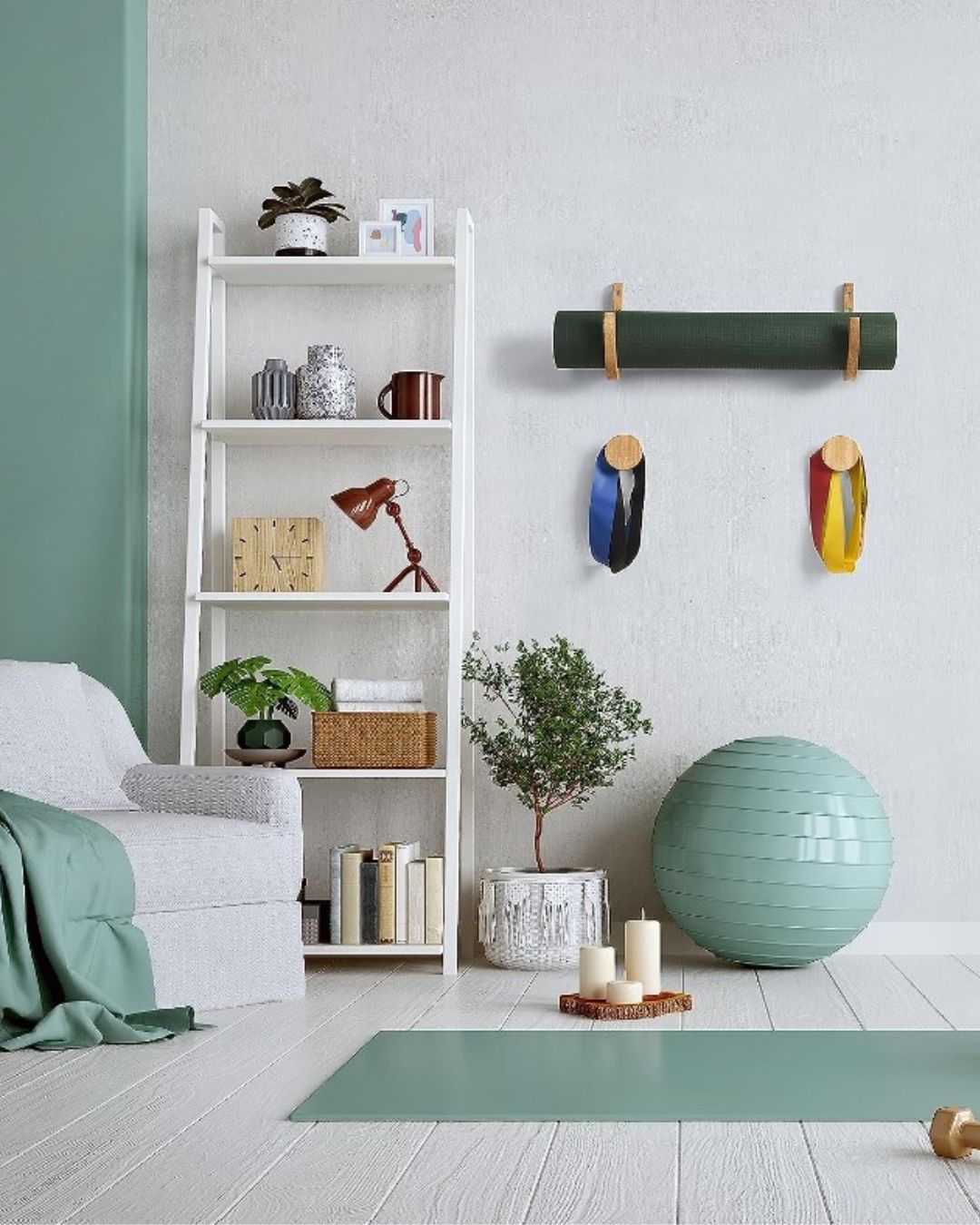 I love a home yoga sesh, but shoving yoga mats into a pile in the corner of the room doesn't exactly look cute. Instead, make your Instagrammable yoga mat part of the decor with hooks if your landlord is all good with you drilling into walls. You could even put yoga blocks on top and hang towels on the hooks too. If you can't drill into walls, go for a dedicated mat holder instead, that you can neatly tuck away. Add an indoor plant or three for all the boho vibes.
4. Organize your gym in a closet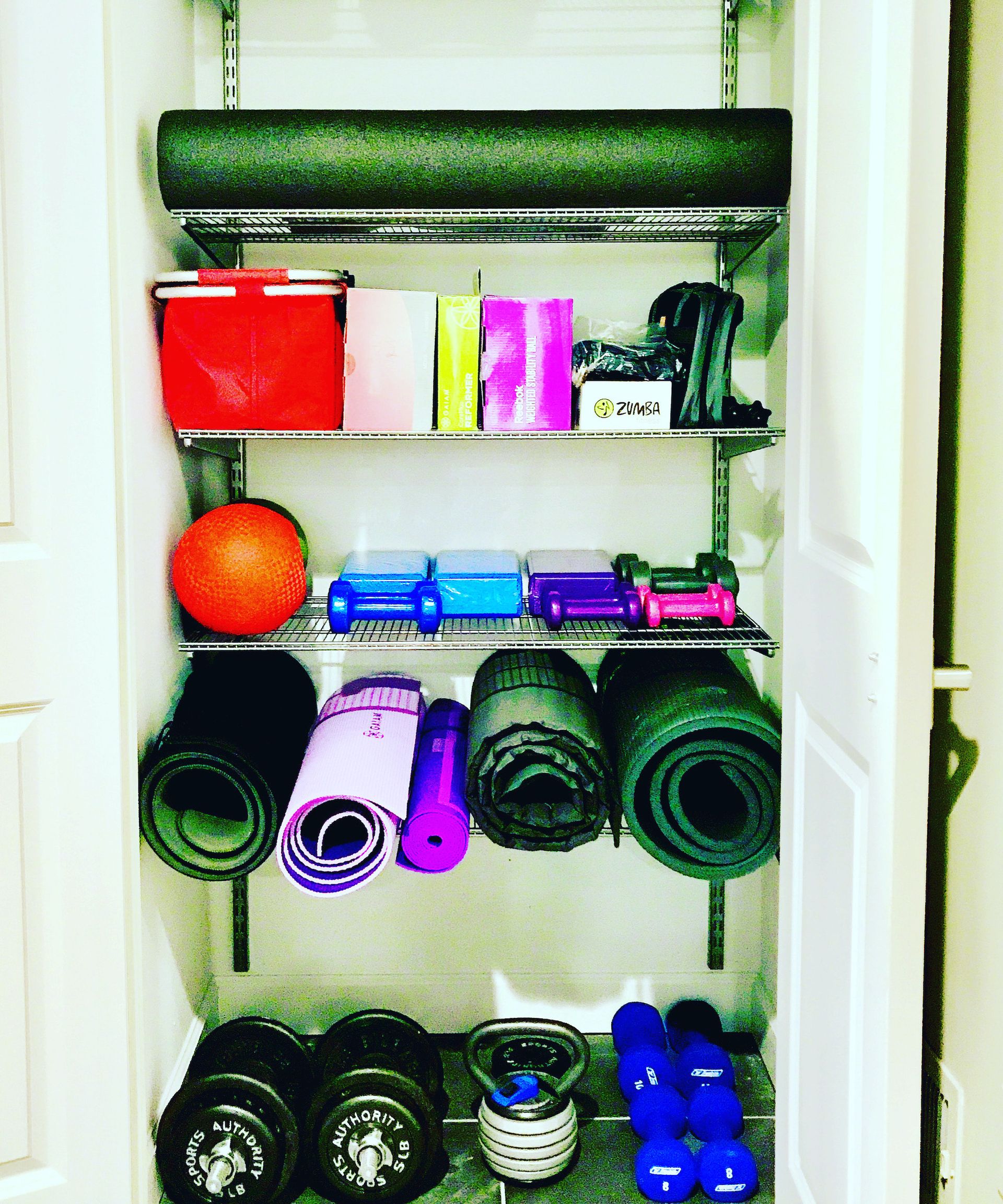 If you have bright gym equipment that's grabbing too much attention in your room, then stowing it out of sight is a fab idea. If you have a closet that you aren't using, you could build sturdy AF shelving into it, to carry even your heaviest dumbbells. Professional organizer Amy Bloomer at Let Your Space BLOOM has packed all her pieces into one space, making the equipment very accessible. The easier it is to grab, the easier it is to get going and working out. Right? Right…
5. Use your gym gear as decor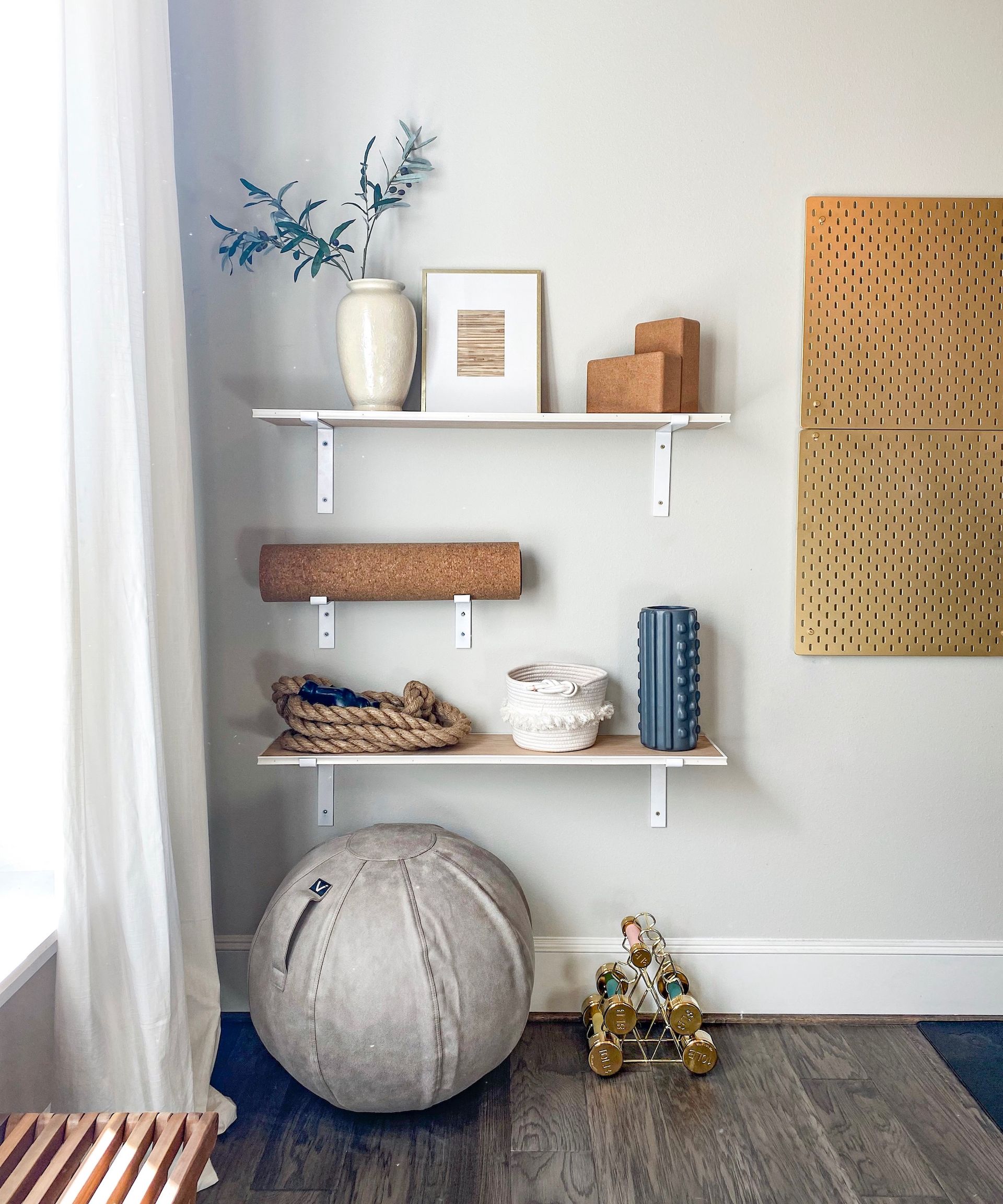 Ugly gym equipment? NTY. If you're really stuck on space, go for gym equipment that actually matches your interior for a fun way to showcase your personality in your space. Like, there's no point buying a cute yoga mat from the TikTok shop, and keeping its beauty hidden from the world. I'm so into this set-up from Cara Newhart from Never Skip Brunch has created, with metallic dumbbells and a cork yoga mat. It looks like the dreamiest nook to work up a sweat in, TBH.
6. Add a foldable desk
I'm totally one of those girls who gets bored when working out, and has to be watching something in order to get through the whole thing. Hey, at least I get it done, right? That's where a foldable shelf or desk comes in. With one of these, you can put your laptop on and catch-up on your fave series, or even put equipment on so it's easy to pick up mid-workout. The beauty of getting one that folds away is that it won't messy up your space when they're not in use. You can get a shelf that hangs on your wall like @missjessicanicoleblog, or even a standing desk.
7. Go retro with classic locker room style storage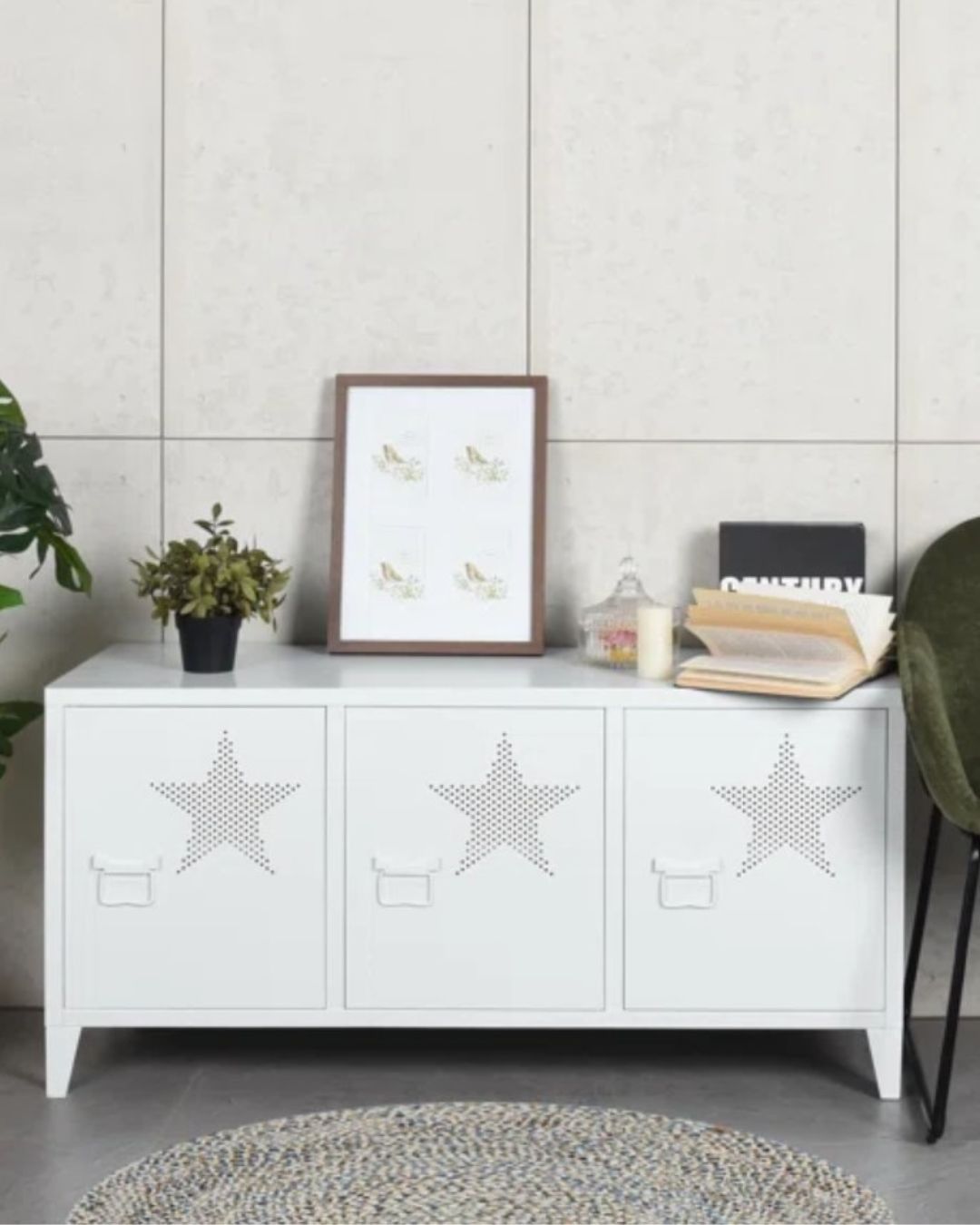 Lockers don't have to remind you of high school, y'know. In fact, they can be a really stylish but strong storage solution. I think that they give real retro vibes, which always looks quirky and cool. You can get them in smaller sizes that are super apartment-friendly, as well as lots of fun colors. Plus, the top can be decorated to totally disguise the fact that gym equipment is stored in there.
8. Make a DIY towel rack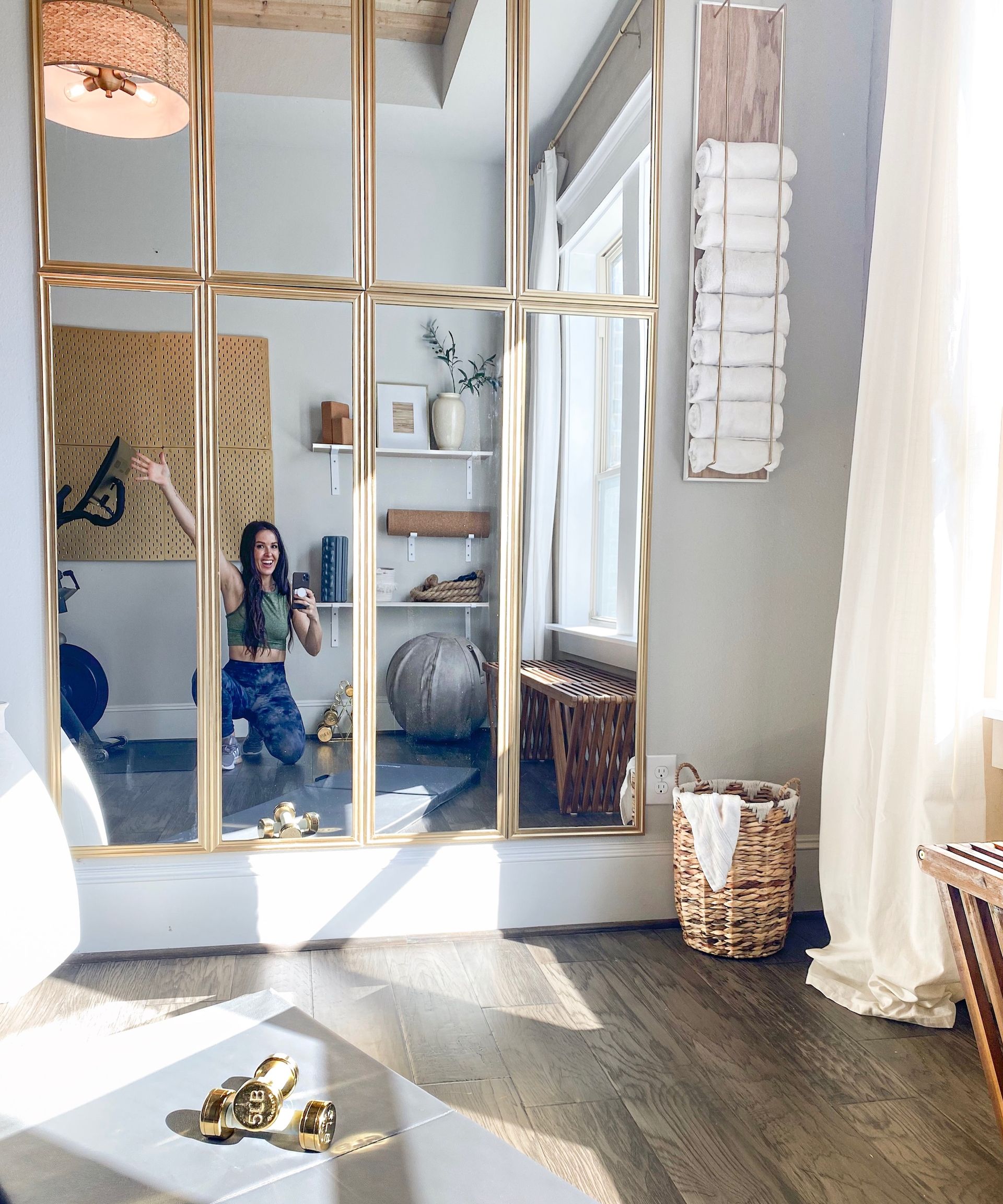 When you're working out, you want to be able to quickly get a towel to brush off all that sweat. If you're a DIY queen, creating your own towel rack is a fab idea. It's an inexpensive idea, and could even be sustainable if you can get some recycled wood. The result? A seriously chic yet useful towel rack. Add a basket for used towels underneath, and you'll have basically recreated a luxe hotel gym experience.
9. Go for an open, vertical shelf
One of my fave ways to maximise storage in a small space is by looking vertically. I'm not just talking about wall space — taller shelving units like this one will also work for this trick. If you organize your gym equipment as neatly as Melissa Metrano has, there will be no need to hide it away. I mean, how satisfying is that shelf to look at? Low-key, I'm also loving how she's folded her leggings Marie Kondo style.
10. Try a specialist gym equipment holder
Ok: Sometimes there's no point in complicating things. If you have lots of gym equipment that you want to keep in one place, an all-in-one storage solution like this one could work well for you If you have heavy kettlebells or dumbbells, buying something that is specifically designed to store gym equipment is def a smart idea. Oooh, and be sure to look for one with wheels, so you can move it wherever 
Up next: You need these small apartment storage ideas to spruce up your place ASAP