Wizards of the Coast is expanding upon returning Magic: The Gathering mechanics within Innistrad: Crimson Vow while introducing three new ones. 
Scheduled to digitally launch on Nov. 11 and globally on Nov. 19, Innistrad: Crimson Vow (VOW) will contain a total of six mechanics. The MTG set is a continuation of the events that happened during MID, centered around Olivia Voldaren's wedding and the Gatewatch attempting to bring back daylight to the plane of Innistrad. The returning Magic mechanics are Day/Night, Disturb, and Exploit. The three new VOW mechanics are Blood Token, Cleave, and Training.  
Returning MTG mechanics in VOW
Daybound and Nightbound will once again be a mechanic focused on werewolves featured in VOW. An upgraded version of Disturb will also return, featuring Double-Face cards with a creature on the front side and a variety of Magic types on the backside.
Daybound/Nightbound
The MTG mechanic Daybound/Nightbound, introduced in MID, will remain mostly exclusive to werewolves within the VOW set. 
Disturb
Disturb returns to VOW with an upgrade to the MTG mechanic. Creatures with the Disturb mechanic in MID were Double-Faced cards with the backside featuring another creature type, primarily as spirits. Within VOW, creatures with Disturb have a backside with a variety of Magic types.
The legendary creature Dorothea, Vengeful Victim, for example, returns to the battlefield upon paying the Disturb cost of 1WU as an Aura Enchantment called Dorothea's Retribution.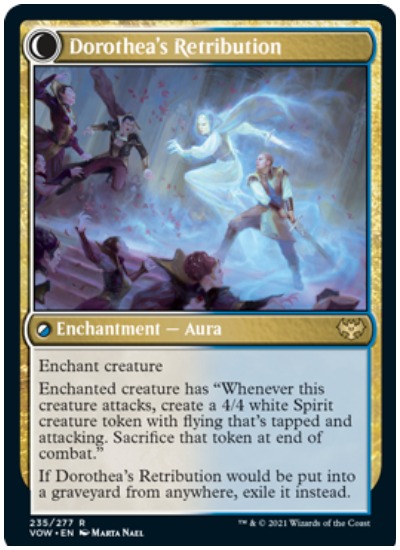 Exploit
The Exploit mechanic was most recently showcased in Modern Horizons and first introduced into Magic via Dragons of Tarkir. Synergizing with sacrificial themes in both MID and VOW, a creature entering the battlefield gains the player or that creature a bonus for sacrificing an existing creature already on the battlefield.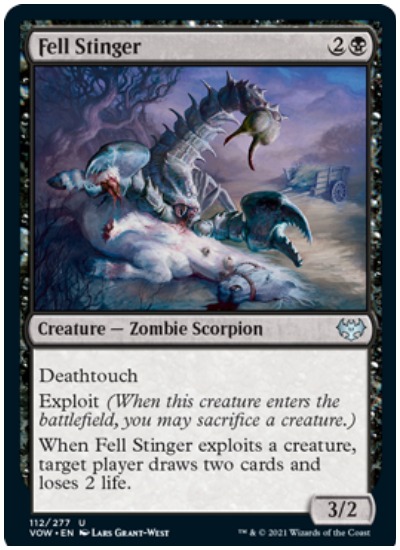 …
Read More