Max Verstappen secured a dominant win in the Mexico City GP to take a potentially significant step in his quest to end Lewis Hamilton's reign as world champion, opening his title lead to 19 points with four races left.
Hamilton just held off Mexico's own Sergio Perez, Verstappen's team-mate, for second place against a clearly-faster race car but first and third still represented a big comeback result for Red Bull after they were surprisingly outqualified by Mercedes.
Verstappen made light work of the Valtteri Bottas-Hamilton front row by impressively slipstreaming past both on an outside line at the start, decisively claiming a lead he never relinquished outside of the pit stops.
He won by 16.5s for a record third victory in Mexico and a ninth of a 2021 season where the momentum increasingly looks to be with the 24-year-old Dutchman in his engrossing fight with Hamilton for the drivers' crown.
"You just have to congratulate Red Bull because their pace was on another level," said Mercedes boss Toto Wolff to Sky F1. "In the end for Lewis' championship, it was damage limitation."
Hamilton said: "Congratulations to Max, their car is far superior this weekend and there was nothing we could really do about it."
To compound first-lap matters for Mercedes, polesitter Bottas was spun around into the first corner by McLaren's Daniel Ricciardo and dropped to the back of the field.
A delay at Bottas' second pit stop then dropped the second Mercedes out of points contention completely, although a lowly position did at least allow the team the opportunity to complete a late tactical pit-stop for fresh tyres to take the fastest lap bonus point away from Verstappen (even if by finishing outside the top 10, Bottas could not score the point himself).
Four to go: How it stands in the title chases
| | |
| --- | --- |
| Drivers' | Points |
| 1) Max Verstappen | 312.5 |
| 2) Lewis Hamilton | 293.5 |
| Constructors' | |
| 1) Mercedes | 478.5 |
| 2) Red Bull | 477.5 |
That move also kept Mercedes ahead of Red Bull in the Constructors' Championship, although the gap is down to a single point over Red Bull with races in Brazil, Qatar, Saudi Arabia and Abu Dhabi to come in the season's concluding final five weeks.
Perez ran 11 laps longer than Hamilton before his pit stop but could not quite make his tyre advantage count in the closing laps and secure Red Bull a one-two.
Yet that near-miss could not put a dampener on the wild post-race celebrations as Perez became the first Mexican to finish on the podium at his home event in the 21 editions of the race stretching back to 1963.
AlphaTauri's Pierre Gasly took a brilliant fourth ahead of the Ferraris, moving his team level with Alpine for fifth in the Constructors' Championship.
Ferrari even briefly switched the order of their drivers late on to try and put pressure on Gasly. But it proved to no avail; despite a tyre life advantage, Carlos Sainz was not able to catch up either and so he was eventually shuffled back behind Charles Leclerc before the chequered flag.
But fifth and sixth still represented a good day for the Scuderia as with McLaren scoring only one point with Lando Norris – who raced back well to 10th from a penalised 18th on the grid – the Italian team reclaim third in the Constructors' Championship.
Former world champions Sebastian Vettel (Aston Martin), Kimi Raikkonen (Alfa Romeo) and Fernando Alonso (Alpine) all raced solidly across the 71 laps to improve on their starting positions and all take home useful points.
Mexico City GP Result: Top 10
1) Max Verstappen, Red Bull
2) Lewis Hamilton, Mercedes
3) Sergio Perez, Red Bull
4) Pierre Gasly, AlphaTauri
5) Charles Leclerc, Ferrari
6) Carlos Sainz, Ferrari
7) Sebastian Vettel, Aston Martin
8) Kimi Raikkonen, Alfa Romeo
9) Fernando Alonso, Alpine
10) Lando Norris, McLaren
Full race result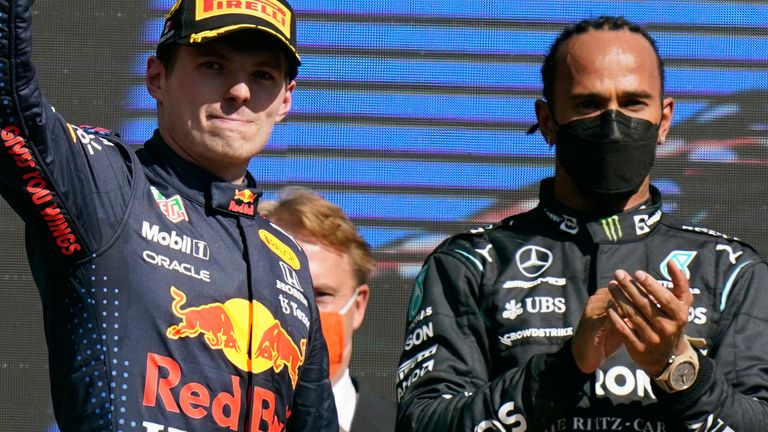 'It could be a defining moment in the championship'
If there ends up being a single weekend that encapsulates the unpredictable twists and turns of 2021's engrossing season, then perhaps it will be this one at the Autodromo Hermanos Rodriguez.
Dominant on Friday, but downbeat by the end of Saturday, Red Bull completed their Mexico rollercoaster on Sunday by delivering the kind of dominant front-running form they were always expected to show on a circuit that has historically suited their car and engine package.
Disappointed to miss out on pole, Verstappen had still said that the third place he had qualified in was actually a better place to be than second on the grid, where Hamilton was.
The opening seconds of the race duly confirmed that when Verstappen took the tow of the Mercedes pair at the start, drawing alongside his two rivals before passing them on the brakes on a wider line into the opening right-hander.
"It was a brave, brave move around the outside of the Mercedes'," commented Sky F1's Jenson Button. "He knew where to brake, he'd been braking there all through the weekend, and it was a lot easier on the racing line.
"But he had the confidence to turn in and know they were not going to tap him on the rear. It was a great move and it could be a defining moment in this championship."
Sure-footed on the brakes to claim the lead, a victorious Verstappen said afterwards: "It was nice three wide and it was all about just trying to brake as late as you can.
"I kept it on the track, came from third to first and that was basically what made my race because I could just focus on myself, and we had incredible pace in the car."
Hamilton and Mercedes certainly had no answer for that prodigious race pace.
After four laps behind the Safety Car for the first-corner melee, which also accounted for retirements for Yuki Tsunoda and Mick Schumacher, Verstappen built a lead of three seconds inside the first four laps of green-flag racing.
That advantage had grown to a commanding nine seconds by the time Mercedes pitted Hamilton on lap 29.
Verstappen was in four laps later and the leaders' respective switches to the hard tyres changed nothing in the day's narrative; the Red Bull leader simply continued to stretch clear of Hamilton, whose attentions anyway soon turned to the looming threat of Perez, who had delayed his own stop to lap 40.
Returning to the track nine seconds behind the world champion, Perez was within striking distance of the Mercedes with a dozen laps left but did not quite get close enough to attempt a late overtake.
"Of course I wanted more, I wanted to get a one-two for the team but I didn't have a single chance to get through," said Perez, nonetheless still jubilant about finishing on the podium in front of his own fans.
"I could hear the crowd coming through the stadium section, it was pretty incredible."
Receiving an emotional embrace from his father, Antonio, and celebrating with his young son down in the centre of the former baseball stadium that provides the vibrant heartbeat of the Mexican circuit, Perez duly received a hero's welcome from the surrounding grandstands.
The races remaining in F1 2021 – live on Sky Sports
| | |
| --- | --- |
| November 14 | Sao Paulo GP |
| November 21 | Qatar GP |
| December 5 | Saudi Arabian GP |
| December 12 | Abu Dhabi GP |
The fascinating journey to find the season's biggest winner goes on, but Verstappen heads to Brazil's own atmospheric Interlagos next week knowing that another Sunday triumph would take him one big step closer to realising his world title dream.