FLORENCE, S.C. — Over the past two years, Lake City has begun investing in competitive video gaming, or esports, as one of many efforts to keep young people away from crime.
Friday and Saturday marked the city's most visible investment in the program yet: a convention highlighting video gaming and other types of pop-culture entertainment. The Anime, Gaming and Entertainment Convention, shortened to A.G.E. Con, saw young children, teenagers and adults alike show up to play video games, shop at booths and listen to talks from industry professionals.
"A lot of times, the kids can't even leave Lake City," said Savon Whitehead, esports and events coordinator. "People should go to conventions because they're a great learning experience. You meet new people. You build friendships. It's just an overall great time, so why not bring it to them?"
The convention was held at the R.O.B. in Lake City, and tickets started at $20 for daily general admission, with kids 12 and under getting in free.
Booths selling old video games, trading cards and anime merchandise, along with tables holding powerful desktop computers and video game consoles, formed aisles throughout the R.O.B.
In the back, a stage was set up for a number of different industry professionals who came to speak about their experiences and take questions from the audience. One such professional was Tiffany Grant, the voice actor best known for playing Asuka in the English dub of the anime Evangelion.
In the front, attendees with virtual reality headsets and controllers jumped around, lost in their virtual world. Nearby, people cosplaying as various anime characters played retro arcade cabinet games.
Still others played trading card games like Magic: The Gathering and Yu-Gi-Oh! at card tables. Just beyond them, Lake City Mayor Yamekia Robinson played competitive video games against attendees at one of the computers.
"This is something that the kids love to do, so we wanted to make sure that we brought something like this to get our kids out of the streets, to get them to do things that they like to do and to get the parents involved," Robinson said. "We want to get that family connection back together and this is one way that we can do it."
Esports have been growing throughout the country, with a number of colleges and municipalities starting their own programs. Florence County, Darlington County School District, Clemson University and the University of South Carolina all have their own esports programs, among many others in South Carolina and across the nation.
"I really truly believe that esports are going to grow more and more here in Lake City, and we're going to have bigger and bigger conventions and bigger conferences here in Lake City," Robinson said.
Lake City has invested in traditional sports too, but not everyone is interested in them, according to City Administrator William Hall. He said esports have been a way to reach young people that the city has previously been unable to.
"Not all our youth are into football, basketball and softball. They're not field-sport-type people. Some of them are couch people," Hall said. "We're trying to now get them off the couch and get them involved with other youth, interact and keep them out of the gang members' hands."
In past years, Lake City has sponsored esports tournaments that Whitehead said were successful but offered little to those not actively participating. With those tournaments under its belt, the city switched focus to a more all-encompassing convention while keeping the tournaments alive.
"A lot of our own community wasn't coming out to the event, and that stemmed from either that they couldn't afford it, they didn't feel confident or they just didn't know about it," he said. "We took that information and said, 'What can we do differently?'"
In addition to catering to those who already are into anime, gaming and other pop-culture entertainment, the convention was also designed to introduce new community members to the culture.
"When you go to these tournaments, even though the parents are supporting them and everything, when the kid loses, what is there to do? They just end up going home," Whitehead said. "We wanted to make sure that, even if they show up for the tournaments, the families have something to do."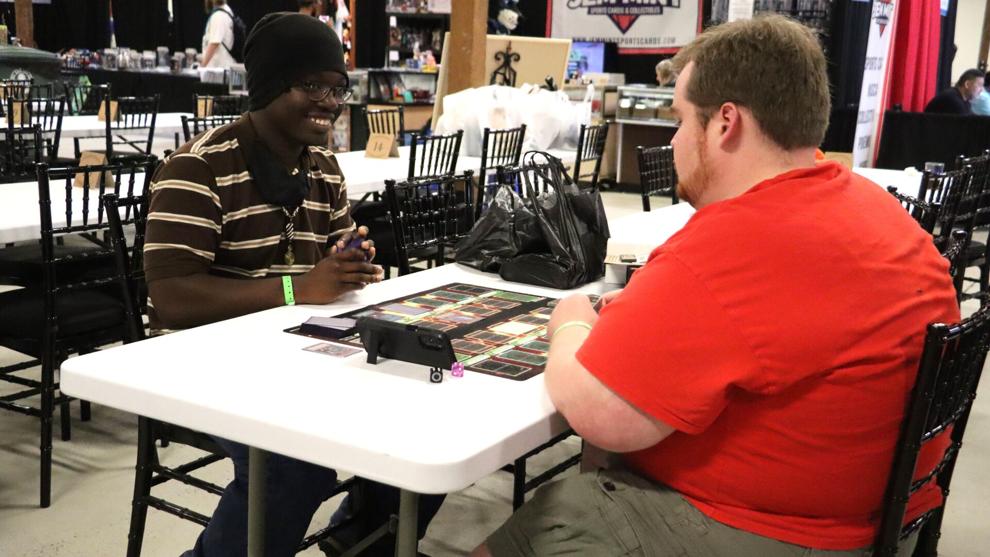 Vendors at the convention also welcomed newcomers into their niches. Ricky Brown, the general manager of Heroes Hideout, said the businesses' goal at the convention was to get more people into tabletop gaming, like trading card games.
"We'd like to get as many people as we can playing, no matter where we're at," he said. "Even if we're not there, we want people playing."
Heroes Hideout ran all of the convention's trading card game tournaments, many of which were geared to newcomers because participants were not required to bring their own cards. Winners received prizes, and everyone got to keep the cards they played with.
While the convention had a good response from community members, it has also expanded the Lake City name, according to Hall.
"We're starting to build a good reputation throughout the east coast, and people are starting to recognize Lake City, South Carolina, is here, and we're not just Florence. We have an identity to ourselves," he said.
Two gaming and anime fans from Summerville drove up for the convention on Friday, and after seeing the festivities, said they decided to drive the two hours back on Saturday.
"I am in the Mario Kart tournament so hopefully that goes well, but we will see where that goes. We are both really enjoying the con today," said Malik Logan, who was dressed as Tomioka Giyu from the anime Demon Slayer.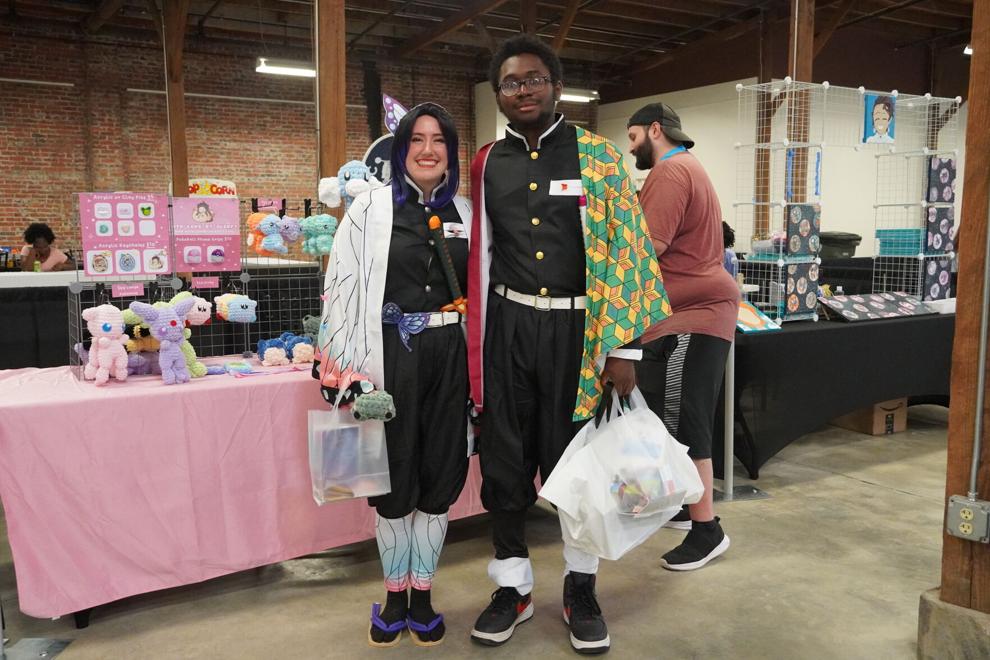 Kai Mitchell, Logan's partner, was cosplaying as Shinobu Kocho from the same show. The couple said they often go to similar conventions around the area and were attracted to Lake City by the A.G.E. Con advertisements they saw.
Businesses helped to make the convention a success but also benefited from it. Justin Deas of Jem Mint Sports Cards & Collectibles said the convention was a great way to get lots of people from many different interests into the same building.
"They've been able to grab people from every genre that fits under this roof: the comics, the games, the sports cards, anything collectible, anything geek-related, and I mean that as a positive thing," he said. "When you think of Lake City, you don't think of conventions, you think of the big cross, you think of a small town, but this brings a little bit of a big-town feel to a small town."
While many of the businesses, like Jem Mint, were from Florence, others were from as far as Tampa, Florida, according to Deas. He said that kind of exposure helps the community and might encourage businesses to open satellite locations within Lake City, boosting the businesses reach and the local economy.
Melanie Dozier contributed to this report.
Christian Smith covers city and county government, education, community events and more within Florence County. Previously, he worked as a general assignment reporter for the Asheville Citizen Times and as a city government watchdog reporter for the Hendersonville Times-News. Originally from Charleston, Christian graduated from Winthrop University in 2022 with a degree in Mass Communication.